Purple is the color of the season. It's everywhere, from fashion runways to home decor catalogues. The latest wedding trends are accordingly showcasing palettes where purple flowers are the stars of the show. The reason is that Pantone named Ultra Violet as the color of the year 2018, boosting the already established popularity of purple colors during the fall season. In this blogpost you will discover everything you need to know for designing your wedding with purple flowers:
The meaning of purple flowers in weddings
According to Pantone, purple represents the desire to pursue a world beyond our own, while also inspiring a spiritual connection. Such mystic symbolism has been transferred to purple flowers for centuries. In literature, for instance, roses of blue and purple tones have been a symbol of supreme love; one unattainable, since purple roses don't exist in nature.
When it comes to weddings, purple flowers represent a dream come true. The impossible, a real deep love, is finally achieved. Purple flowers are no doubt a token of a spiritual love, one full of care and respect in which two individuals are connected beyond romance. Furthermore, purple flowers can be combined with warm colors, acquiring new meanings like happiness, faith and beauty.

Trendiest Wedding Palettes inspired in purple flowers
Purple + Orange + Peach
This palette combines the spiritual character and lightness of purple flowers with the joyful spirit and intensity of orange blossoms. Together, orange, peach and purple flowers create wedding bouquets and table runners that symbolize a deep, yet playful love.

Purple + Lavender + Eggplant
The mixture of lavender, eggplant and purple flowers is a stylish way of bringing together concepts of tenderness, strength and pure love. The sophisticated colors of this palette are ideal for creating wedding backdrops, arches, hanging pomander and other statement arrangements.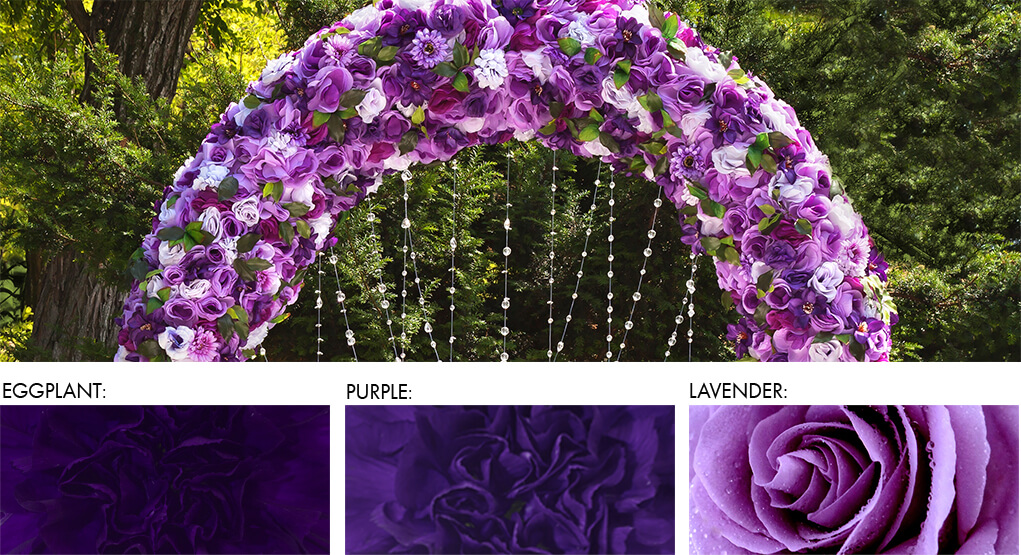 Light Purple + Grey
If you are looking for a classy wedding decor, this palette of grey and purple flowers is your best option. The soft tones of this palette stands for romance, care and complicity. Furthermore, grey and purple flowers together create charming wedding bouquets, staircase displays and centerpieces.

Where to buy purple flowers for weddings
Despite the vast popularity of Ultra Violet color, it isn't an easy task to find purple flowers in the market. Specially if you are looking for purple roses and carnations, some of the most coveted wedding flowers. Roses and carnations lack the gene with the ability to produce the blue pigment necessary for creating purple tones in flowers. In fact, growing purple roses and carnation is still a real quest for the impossible in the flower business. Until today, few breeders have been capable of such achievement.
Fortunately, at Sense Ecuador, we have some of the most beautiful purple roses and carnations for your wedding. These beautiful purple flowers grow in the highlands of Ecuador, a fertile land where flowers receive sun all year round and snow-capped volcanoes feed them with the purest water available. The results are purple flowers of exceptional color and quality for you to create gorgeous wedding arrangements.

Create outstanding wedding arrangements with premium purple flowers: